General Information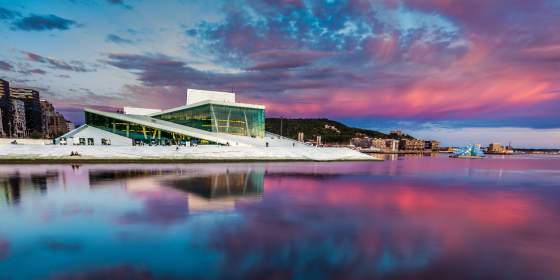 Oslo offers a large variety of diversion. Have a look at
Visit Oslo
to see what's going on.
The currency in Norway is Norwegian Crowns (NOK and not EURO). You may use your credit card practically everywhere. ATMs are called Minibanks in Norway.
---
The main airport for Oslo is Oslo Airport Gardermoen (OSL). There are two other airports which are sometimes referred to as Oslo, namely Rygge (RYG) and Torp (TRF). It should be noted that they are further away from Oslo than the main airport Gardermoen. Torp and Rygge are served by low-cost carriers, and are only recommended if you are very short on money. This is because of the long travelling times to and from the airports.
When you leave the customs area, you should turn right and walk to the end of the hall, where you will find the entrance to the airport express train Flytoget, and the regular NSB train service.

The airport express train takes you to the Oslo central station, Oslo S, in about 20 minutes. One ride costs 180 NOK, and you are obliged to buy a ticket before boarding these trains — it is not possible to buy tickets on board. Tickets may be bought by swiping your credit card at the checkpoint, at the ticket vending machines, or at the NSB counters.

The regular train service will bring you to Oslo S in about half an hour. Tickets cost 93 NOK (plus a 40 NOK fee if you buy your ticket on board of the train).
Torp airport is served, e.g., by KLM, Ryanair, Widerøe, and Wizz air.
Torpekspressen offers bus transportation to/from the Oslo Central bus station (Oslo Bussterminalen), which is in 5 minutes walking distance from the central train station. The ride takes about 1:45h and costs 260 NOK for a one-way ticket and 470 NOK for a round-trip ticket.
NSB trains to/from Oslo S depart once an hour. The ride takes about 1:45h and costs 266 NOK (plus a 40 NOK fee if you buy your ticket on board of the train). There is a free shuttle bus connection between the airport and the train station.
Some useful links for travelling:
---
In case you would like to use the opportunity to visit other parts of Norway, we have collected a few hints and links:
The 17th of May is the Norwegian constitution day. All over norway you can watch parades, listen to marching bands, and see people dressed up in the national costumes.
The company Norway in a nutshell ® offers 1—3 day trips between Bergen and Oslo.
On VISITNORWAY.COM you may find general information on touristic highlights in Norway.
The web pages Visit Oslo offer information about the Oslo region.
If you have a lot of time and money, you might be interested in a Hurtigruten boat trip along the western coast of Norway.